When I first embarked on my Reimagining Hebrew Instruction project, I scoured the internet for Comprehensible Input-aligned modern Hebrew resources for my classroom and blog.  I found close to nothing, and I do mean, כלום.
One link that kept popping up in my searches was עִבְרִית בִּתְנוּעָה – Hebrew Through Movement (HTM).  Turns out this is a popular program, and has been adopted by many synagogue-based supplementary Hebrew schools.
I won't denounce it or any SLA research-aligned approach that purports to improve the experience and outcomes for our Hebrew learners (acquirers), though I do have issues with HTM.
What is  עִבְרִית בִּתְנוּעָה  – Hebrew Through Movement – and what's my beef with it?
According to its website description, Hebrew Through Movement (HTM) is:
"…a language acquisition strategy in which students learn Hebrew by hearing and responding to Hebrew commands.  עִבְרִית בִּתְנוּעָה is an adaptation of James J. Asher's Total Physical Response (TPR).[1]  While TPR was designed by Asher as the foundation of a full language program, it has also been effective in situations with limited language goals.   Hebrew Through Movement is being used in Jewish congregations, day schools, camps, early childhood programs and other settings.  This curriculum guide for עִבְרִית בִּתְנוּעָה starts with a foundation in modern Hebrew, but has as its goal making the prayers in our siddur, as well as synagogue and Jewish vocabulary, more easily accessible to those with limited learning time.  HTM does not teach communicative Hebrew, but students can easily move on to other Hebrew forms." (Bold mine).
My first wondering is one of focus and purpose.  If HTM calls itself a 'language acquisition strategy,' then, since language is a tool for communication, it ought to teach communicative Hebrew skills.  But the above explanation clearly specifies that HTM does not.
Also, HTM severely constrains a powerful and research-endorsed tool, TPR, to make isolated "synagogue and Jewish vocabulary" accessible to students.  But, to what end?  What are our kids supposed to be able to do with those isolated terms?  Wouldn't a program claiming to teach Modern Hebrew be better off using such a communicative tool as it was intended –  for real communication? And, if the purpose of HTM is also familiarity with the artifacts and observances of Jewish life, then why teach those thematic targets through movement?  Why beat around the bush?  Just call a shofar a shofar!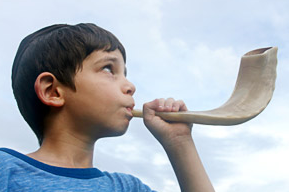 Furthermore, if the goal is to familiarize kids with siddur prayers, then how does slathering on dozens of modern Hebrew verbs, (served up only in the infinitive form,) help us reach that goal?
עִבְרִית בִּתְנוּעָה (HTM) started with the great idea of exploiting TPR, an ideal conduit for delivering Comprehensible Input, so our kids could hear the sounds and cadence of our Israeli mother tongue. In TPR students respond to the instructor's commands through whole body movement rather than words.  "Students are not asked to speak, only to try to understand and obey the command." (Krashen, 1998)*
But then, to my mind,  HTM meandered astray, attempting to stuff and cover all the traditional Hebrew school content – language, religion, prayer, holidays, customs & traditions –  with this one tool-turned-curricular package.
Surely Modern Hebrew overlaps with specific 'synagogue and Jewish vocabulary' and prayer words from the siddur.  But if we limit our Modern Hebrew instruction to a field delineated by this religious/cultural criteria, our kids won't come away experiencing Hebrew as a World Language for communication, and certainly won't engage in real-world Hebrew usage.  We must provide a flood of comprehensible, compelling and contextualized Hebrew for our students to acquire it – not merely commands using pre-selected Jewish lifecycle vocabulary.
Can TPR help us facilitate Hebrew language acquisition?  Absolutely!  TPR is an effective and appropriate comprehensible input tool for language teachers, and has the added benefit of providing much needed and developmentally appropriate movement and brain breaks to our young students. But is a steady diet of action commands, based on Jewish artifacts and prayers a la HTM, compelling to kids?  I think not.
Dr. Krashen writes, "TPR is not a complete method.  It cannot do the entire job of language teaching, nor was it designed to do this.  For beginners, there are several other powerful means of supplying comprehensible input, means that utilize other ways of making input comprehensible (e.g. the use of background knowledge and pictures, as in story telling)."
I say, let's use TPR in our Hebrew classrooms as a tool for delivering comprehensible input, but not exclusively.  Let's not hijack it with a religious studies agenda – inserting prayers and isolated Jewish and synagogue words at the expense of the most practical and high-frequency foundational language.  Let's use correct grammar in context as we need it, and not restrict our utterances to one tense, for fear of letting the conjugation cat out of the bag.  So long as we insure our messages are comprehensible, our students will acquire.
Finally, let's deliver Hebrew messages worthy of our students' attention – by having our kids collaborate and create with us, on scenes, stories and conversation.
Oh, and the siddur prayers probably belong in a different conversation, altogether.
*See my Hebrew Day 1 Demo; lots of TPR especially near the end.