I just got back from attending the Prizmah, 2017 Jewish Day School Conference which, lucky for me, is in Chicago this year.  I only heard about it a few weeks ago, so it was too late to pitch a proposal to be a presenter.  (Maybe next time?)  Instead I attended a most intriguing session:
As far as I could tell, this was the only session (among hundreds) that focused on Modern Hebrew instruction, and many respected speakers participated on the panel.  My goal was to get a read on current thinking in the field, in part, because I am obsessed with the topic, but also to gauge how 'ready' the day school community seems for the primacy of Comprehensible Input message.
The session was fantastic and did not disappoint.  Thanks to the wonderful panel of Hebrew leaders.
Here are some of my takeaways:
+Our pre-k-12 Jewish learning institutions, no matter how religious or what their modern Hebrew programming looks like – immersion, foreign language, content-related, lots of or limited instructional minutes – are all struggling to improve the quality and effectiveness of their modern Hebrew programs.  They are fully aware that their stakeholders (students, parents, teachers) aren't satisfied, and that their Hebrew outcomes are generally…underwhelming.  (I wasn't sure everyone knew, but they do.  This is very good news, indeed!)
+Our institutions are talking about embracing proficiency-oriented programming for communication.  THIS IS HUGE!   When I was a student, it was rare to question any, let alone the Audio-lingual (grammar drills) or translation teaching methods.  Now, though, our leaders realize that face to face communication does not arise from 'slice 'n dice' methods that chop the language up and explain how the parts work.  Day schools want a vibrant Hebrew culture where the language is a tool for everyday communication – in the library and cafeteria, as well as the Hebrew classroom.
+Our day school leaders realize we need to create a cadre of knowledgeable teacher leaders for ongoing improvement and sustainability.  They believe in quality professional development and common experiences for our teachers.  They realize that a native Hebrew speaker does not an expert in teaching strategies make.  THIS IS GIGANTIC.
+Our day schools are willing to experiment in their buildings, tweaking the program delivery model, scheduling, offerings, team-teaching, coaching/mentoring, teacher meetings and collaboration time, peer observations, curriculum, etc.  They are finding creative ways to re-brand their programs to increase visibility, information, and positive press among the community of parents and students.  And importantly, many are willing to shine a flashlight on their existing program and perform a self audit (by an outside/objective observer) to ascertain weaknesses and opportunities for improvement.  Many are undergoing massive revision-ing.
+Many schools are finding ways to extend modern Hebrew beyond the classroom and throughout the schoolhouse by hosting Hebrew language sports classes (Krav Maga);
 using Hebrew in the lunchroom, and integrating Hebrew across the curriculum by singing Hebrew songs in Music class; employing Hebrew in Art, etc.
+Hebrew is gaining legitimacy by affiliation with the national parent organization, ACTFL (The American Council of Teachers of Foreign Languages).  Many Jewish schools are looking to the ACTFL proficiency guidelines to set standards.  Hopefully soon there will be a Hebrew Special Interest Group (SIG) within ACTFL, as well as a National Association of Hebrew Teachers, providing more support and resources for Hebrew teachers nation-wide.
+Delet l'Ivrit through Hebrew Union College has a new university program to train Hebrew teachers with their best practices pedagogy.
And the list of innovations goes on!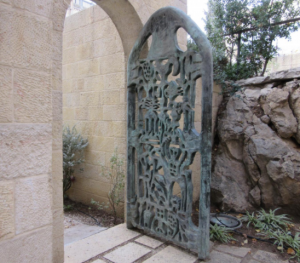 HOWEVER, I do see some challenges, though I have no doubt we will clear them.
Challenges and caveats:
-Many of the day schools talk about data-driven decision making, the new ABCs of education in a post NCLB world.  But language is different than math and science, in that it is NOT CONCEPTUAL.  There are no formulas or causalities to be learned; on the contrary, language acquisition is unconscious (SD Krashen), and the key ingredient driving acquisition is comprehensible input (CI).  No one knows exactly how much input it takes until a student starts speaking (and there are many variables), but we in the field say, as a rule,  "A flood of input for a trickle of output" (Wynn Wong).
 So output-based (speaking, writing) assessments for beginners are inappropriate, because these novices are still building a linguistic foundation.  Would you proctor a speaking test on a 14-month-old?  Assessments of comprehension are formative and ongoing by the well-trained T/CI instructor.  Evaluators can see in class if students demonstrate comprehension of the input; parents can see it in a video of class.  Later, once the students have built a broader linguistic base and have the literacy skills necessary, students can write and even speak more in Hebrew.  According to the research, though, practicing speaking through memorized dialogues and cloze (fill in the blank) activities is not real communication, and does not beget real communication.  (See this article on Principles for Language Teachers from my SLA comrade in arms, Chris Stolz).
-Related to assessment, above:  We must be skeptical of written level-placement tests based on discreet vocabulary items and/or speaking/writing output, especially for the novice to intermediate proficiency levels.  In fact, many placements tests, for admission to Hebrew camps, day schools, ulpanim (intensive Hebrew study programs), university and other programs, are outdated and do not align with SLA research.  Check out this study packet for Chalutzim,
a 7-week Hebrew immersion camp experience that my son attended.  While he had a fantastic summer, the entrance test likely created obstacles and anxiety for many potential campers.  It sends the message, 'If you don't know or memorize this random list of low frequency words, you aren't a good fit.'  Is that the pronouncement we want to convey to our 15-year-olds?  The study packet asks students to (be prepared to) memorize semantic sets (i.e. – a list of colors, nature words, numbers), but this is not how the brain acquires (Robert Waring); and potential campers are invited to study verb endings for tense formation, but this practice constitutes a focus on form, which is linguistics, not language acquisition.  Many of the language instructional practices once at Chalutzim also lack research-based alignment, and the program as a whole (and others like it) would greatly benefit from an audit and overhaul, to optimize Hebrew acquisition, its stated goal.
-Teachers and administrators must know how humans acquire language (SLA research) in order to establish and monitor an acquisition-conducive program, (as stated in my manifesto, here.)  Otherwise, we'll be chasing our tails, trying new curricula and materials, substituting one expensive, misguided and ineffective program for another.  Our teaching strategies must align with the research.  We know that humans need comprehensible input to acquire, and that by making the input compelling, the likelihood for attending to messages is greater, optimizing our time and effort.  (Read about SLA here.)
-Many well-intentioned teachers and programs insist that their novice level youngsters speak/respond only in Hebrew, say in the cafeteria or in other school common spaces.  We call this practice, "forced output," and it flies in the face of what we know about acquisition and the affective filter.  If a student is forced to speak in Hebrew before s/he is ready, (before the utterance comes unprompted, confidently and without hesitation), then we run the risk of raising the student's affective filter, making him nervous/self-conscious and less likely to willingly speak the next time around.  WE MUST BE PATIENT UNTIL THE LANGUAGE FALLS FROM THEIR MOUTHS,
giving students ample invitation and opportunity to speak in more supported and natural ways.  This point cannot be overstated.  Often teachers and schools feel pressure to prove that their Hebrew classes are effective, by showing what the kids can say/do with the language ("using complete sentences!")  Instead, we must re-educate our whole community on the importance of investing our time and energies in CI, and showing how it works by:  1.  Demonstrating T/CI on parents; 2.  Inviting them to observe Hebrew class: 3.  videotaping our classes so that observers can appreciate just how much Hebrew our kids are hearing, attending to, and comprehending.  There is no research that I know of supporting forced output ("You may only speak Hebrew in gym class") or language practice, (as in, "Repeat after me:") as a pathway to proficiency – for beginners.  On the contrary, Comprehensible Input provides the fertile soil from which speaking and writing (output skills) grow.
-Many schools assume that teacher-made thematic units are the way to go, and map their curriculum accordingly.  
But we know that young students (and most people, no?)  like to talk about one thing more than any other – themselves!  Therefore, setting a curriculum focused on exploiting the highest frequency words (& verb-containing chunks), while incorporating students' interests and ideas through story-asking, is a fun, lively, engaging and creative way to customize classes for the group in front of you!  Using hi-frequency verb-chunks to talk about "my house" or "my morning routine" is flat and boring, while collaborative, creative and personalized stories bring light and laughter into a discipline in which the brain is already working hard!  We can decide upon a corps of foundational verbs we want to use, and recycle & add more each year to articulate a curriculum up through the grades, realizing full well that we may deviate while following student interest.  The key to good language instruction is sustaining engagement and attention to the comprehensible message, while using Hebrew all the while.
Clearly I could go on, but I'll stop here, to bask in the knowledge that great and positive changes are within reach for Hebrew teaching and learning (acquisition)!   Change takes courage, and the Prizmah session was filled with courageous Hebrew leaders.  I believe we are ready to transform Hebrew instruction, and improve the experience and Hebrew language outcomes for our students!
I wish to be part of the wave that's coming.  If I can help you or your institution realize your dream and re-imagine your Hebrew offering, please reach out! and we'll set up a training for administrators, teachers, parents and/or students.
I'd love to hear your comments on the Prizmah session, and/or the future of Modern Hebrew instruction.
Let's make it happen!
I'M ALL IN.