You may wonder, dear reader, "Where can I get my hands on a curriculum and/or pacing guide for teaching Comprehensible Hebrew?"  The quick answer to your query is unpopular but true.  A Comprehensible Input-based curriculum is a moving target, and a very personal one at that.  Personal to the teacher's style and imagination, and personalized to meet the developmental, individual, social and cultural needs of her students.  In short a Comprehensible Input-based curriculum is emergent – generated from the interests and ideas of the group/s you're teaching.  (Though I am noodling the idea of creating a Hebrew supplementary school articulated curriculum….stay tuned!?!)
Take for example the story seeds I was sowing in my 6th-7th grade group on Wednesday night.  I don't really know these 25 kids yet (it was only our 3rd meeting), so I still rely on name tags to identify them.  I certainly don't know what their interests and passions are yet, though I'm beginning to explore this in an effort to build relationships and create a positive classroom community.  I knew I wanted to start exposing the group to some of the highest frequency verbs, so I decided to get started with a safe crowd-pleaser topic, food, using the verbs 'likes/loves' and '(doesn't) have.'  (i.e., איו, יש, אוהב)  This was the basis for my Wednesday lesson plan.
I pre-selected some Hebrew cognate food props from my vault of amazing plastic facsimiles, then, I printed out some local restaurant logos from Google images, to match the food choices, and made colorful posters of these locales to hang throughout the classroom.  (I heard the kids mention some of the restaurants during our last class together).  A local Italian place, two burger joints (so I could get some compare/contrast language in – more on that another time), and a Middle Eastern spot, all within minutes of the temple.  Class runs from 5:30 – 6:00pm, so I knew that dinner fare would play well.
Already I had several ingredients for a customized experience:  Familiar kid-friendly foods that they were likely to have opinions about, from local places that most kids would know first-hand.  The evening menu then became an exploration of food/restaurant preferences, within a simple and repetitive story framework.
Like all stories, mine had a central problem that emerged when my student, Leah volunteered that she loves felafel.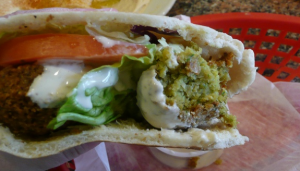 For nearly 25 minutes we spent time in Hebrew trying to track down felafel for our hungry protagonist.  First she went to Maggiano's, our Italian venue, hungrily seeking felafel.  I accompanied her across the classroom toward the Maggiano's poster, where a Maggiano's representative/classmate was waiting, a luscious slice of (plastic) pizza in one fist, a rubbery beige disc of coiled pasta in the other.  I did the talking while my actors silently brought our drama to life.  As dramatic director, I coached Leah to rub her stomach, stating that she loves felafel, while the class confirmed that no, unfortunately Maggiano's doesn't have felafel.  It has pizza, and it has spaghetti.
ME:  "Do you like pizza?"
LEAH:  "No."
"Class, Leah doesn't like pizza!"
"Oh, No!"
Do you like spaghetti?"
No."
"Class!  Leah doesn't like spaghetti!"
"Oh, no!"
"Leah, what do you like?"
"Felafel!"
Class, what does she like?"
"Felafel!"
"Does Maggiano's have felafel?"
"No!"
"Class, Maggiano's doesn't have felafel!"
"Oh, no!  Oh, no!"
"Maggiano's doesn't have felafel!  Who has felafel?  Does Portillo's have felafel?"
Our conversation continued in this way, punctuated by student rejoinders – (אוי ואבוי = Oh, no!) –  as Leah sought hunger relief at Portillo's and Poochie's.  By the end of class she had trekked around the room from eatery to eatery, rejecting (plastic) pizza, spaghetti, burgers and fries (with ketchup – also a cognate!)  Finally, she stood face to face with a classmate/employee at Pita Inn.  "Does Pita Inn have felafel?"  Everyone was ready to escape this onerous predicament.  "Yes!" they all chimed in.  "Pita Inn HAS felafel!"
At the end of class Leah received a plastic pita bread (aka felafel sandwich) and pretended to hungrily dig in.  We applauded her perseverance and drama skills, and we all went home to dinner.
Day 3 for this group (+-90 cumulative minutes of instruction) – and they just co-spun their first Hebrew story.