Humans acquire languages one way only:  By understanding messages, aka, Comprehensible Input  (Krashen, Foreign Language Education The Easy Way).
By the time they're 5 years old, most kids have racked up around 15,000 hours of quality comprehensible language input.  So our 200-400 hour total, after 5 years of supplementary Hebrew school programming, is paltry to say the least.  All this suggests that we must be clear and realistic about our language-outcome expectations.
What kinds of student results can we anticipate from our twice-weekly Hebrew program in grades 3 through 7 (about an hour or so total per week)?  Unlike World Language classes in public school, our kids do get some additional Hebrew input through literacy (reading & writing) instruction as part of the liturgical/lifecycle curricula, which together with Modern Hebrew, makes up the Hebrew supplementary school offering.  Though our supplementary schools have traditionally seen these two domains – Modern Hebrew and Religious Hebrew instruction –  as mutually exclusive, I argue that they can and ought to purposefully inform each other, to fortify the overall program.
Our rich and diverse liturgical/lifecycle/holiday curricula – hereafter called religious school – explores prayers, songs, religious artifacts, images, communities (including Israel), food, customs, and some texts.  Let's discuss the texts.
Until now, when our children first formally learn prayers at religious school, they do so by rote memorization, often with the support of predictable melodies.  The prayers are reinforced in temple music class, through assemblies and special events in the sanctuary, through attending services outside of religious school, and perhaps at home or summer camp, as well.  But we can easily put the written Hebrew words into our students' hands right away and help them develop at the very least, a right-to-left concept of print, as they did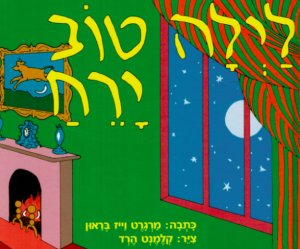 as pre-schoolers (or even earlier these days!) with their native English.
Consider Pat the Bunny or Good Night Moon.  Kids who heard these early favorites on their loved-ones' laps eventually came to predict and recite the tender words, and many kids began to develop letter-sound correspondences, too!  If they didn't begin to decode the words by discreet sounds, then they often learned them as sight words, recognizing the combined letter shapes and contours as a whole chunk.
I contend that even with the first 6 words of most standard Hebrew prayers, (ברוך אתה __אלוהינו מלך העולם) our kids could be internalizing nearly half the Hebrew alphabet's letter-sound correspondences!   After all, these 6 words contain 12 distinct Hebrew letters, including some final-letter forms.  And, BONUS!  One of the words is mega-hi-frequency (conversationally):
אתה means you!
Once the kids are literate in English, we ought to matter-of-factly present the additional modality of Hebrew reading to support and fortify our instruction, specifically AFTER our kids have had ample aural Hebrew comprehensible input of the words in question:   Students' Hebrew names (a very personal and therefore powerful way to recognize letters and their sounds); prayers and song lyrics; the names of religious objects being studied, etc.  It's a missed opportunity to refer to such Hebrew words as Shabbat or challah, or תפוחים ודבש  (i.e., apples & honey)
without simultaneously presenting their written Hebrew counterparts in context.  But I'm not advocating for isolated word labelling, like we used to see in so many bilingual classrooms in the 80's – 90's.  I'm talking about contextualized chunks of written Hebrew language, chunks that will be repeated orally throughout the normal course of class.
My original question was, "What can we expect our kids to be able to do with Hebrew after 3rd through 7th grade supplementary Hebrew & religious school?"  I just explained how the religious/liturgical/lifecycle studies can reinforce our kids' Modern Hebrew acumen through increased exposure to contextualized Hebrew text, the more comprehensible & compelling, the better.
As I wrote in my manifesto (here) to our temple's Education Director, Lori Sagarin, back in November, when I first embarked on this mission to reform Modern Hebrew language education, "By the end of 7th grade, we could realistically hope to graduate students with a strong ear for Hebrew, a great Hebrew accent, resulting from copious auditory input, excellent listening, decoding and reading comprehension within the limited high-frequency Hebrew corpus in which they've been immersed, discourse at the paragraph level…, and, in the upper grades, some writing skill beyond simple sentences.  Most importantly, we will bring our students to a proficiency level at which they can seek more language input independently.  We call this early but impressive skill set, 'micro-fluency.' (term coined by Terry Waltz, PhD)."
If, by 7th grade, our kids feel that their Hebrew journey thus far has been enjoyable and worthwhile, if they feel confident in their growing Hebrew communication skill set, in their ability to understand and produce comprehensible messages, then they'll be more inclined to continue their Hebrew trajectory.  In high school, college, travel, ulpan…wherever.
And we know that mutual understanding is the foundation of trust and peace.
!יאללה    Let's get going!  There's work to do in 5777!